Pita Pit Opens a Location in Gig Harbor, WA and Our Sign Spinners Were There to Let People Know!
The town of Gig Harbor sits right over the Narrows Bridge, connecting it to the 2nd largest city in Washington State, Tacoma (the first being Seattle). Unlike Tacoma, Gig Harbor is a small suburban town with a New England maritime feel. Due to a $6 toll, many residents of Gig Harbor avoid crossing the Narrows Bridge whenever possible. Needless to say, the town can feel very small sometimes, and the selection of places to eat can become redundant. Thank goodness for new restaurants like Pita Pit.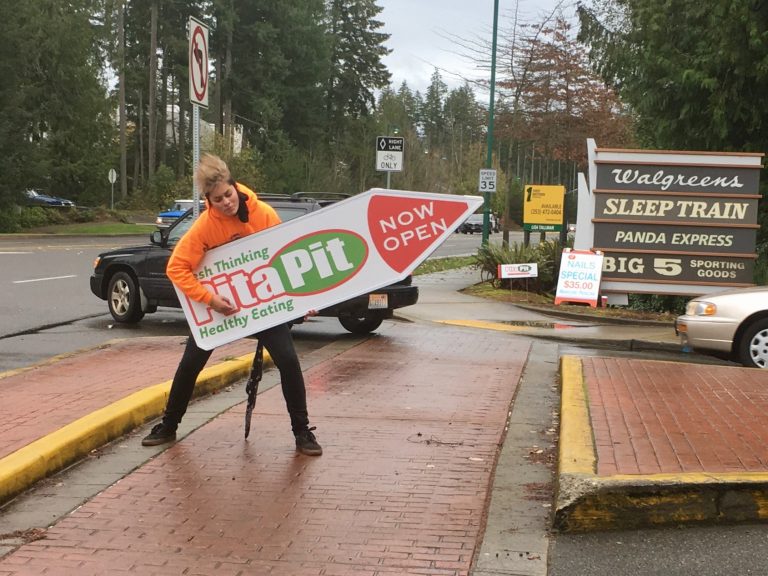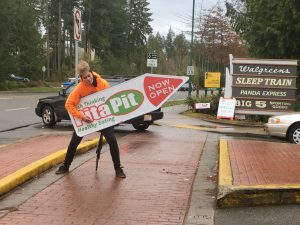 Tucked across the parking lot from Costco, Pita Pit opened in December 2016 to a great reception. Sign Spinner Ads was there to get the word out for the Grand Opening and bring awareness to the small town.
"The Sign Spinner was awesome! She was rocking out and definitely letting people know we were open for business. We had a great reception from the community and a great grand opening."
                                                        -Josh Friedman (Owner of Pita Pit)
More Information for Pita Pit Below…
4784 Borgen Blvd
Gig Harbor, WA 98332
Phone number(253) 358-3195
Business website www.pitapitusa.com